GOLD COAST SHOOTERS SUPPLIES
Open 8:30 to 5pm Monday to Friday Queensland time
 FEEL FREE TO CALL US ON 0755 973220 OR EMAIL US GCSS@gcshooters.com.au
---
*** FEBRUARY SPECIAL ***
Cerus Rifle/Handgun combo mat, usually $50 now 15% off for February plus a FREE GIFT
$42.50


---
Awesome Sako Roughtech 243s!
While stocks last! BE QUICK!!! Limited stock available.
Received 2 each colour of Sako A7 Roughtech Pro in 243 caliber!
Detachable 3 round magazine included
2 of Desert Tan with stainless fluted barrel $2120
2 of black with blued barrel $2000
No holds.
---
We are the ONLY Authorised Hogue dealer in Australia. This means if you have a problem, your item is backed by Hogue warranty and replacement. We can also special order a wide range of grips direct from the HOGUE warehouse in the USA
---
NEW Granulate grip from TALON, all-in-one EV01.
Covers Glock standard grips and consolidates all previous Glock 17 Talon codes into one!
Suits models 17/19X/21 and more!
ONLY $30 !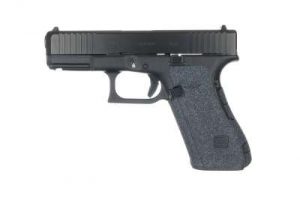 ** Other new Talon products in store, check them out under the Talon banner! **
---
BIRCHWOOD CASEY PRODUCTS NOW AVAILABLE THROUGH THE ONLINE STORE!
Since 1948, serious shooters, avid collectors and professional gunsmiths have relied on Birchwood Casey for shooting and gun care products that have stood the test of time.
From legendary Tru-Oil® Gun Stock Finish and Perma Blue® Liquid Gun Blue, Birchwood Casey has pioneered innovative products with an unwavering dedication for quality.

---
NEW SAKO AMMO SHIPMENT ARRIVED – In store collection only (no post)


Available calibers –  
223    $23 per box
243    $36 per box
6.5 Creedmoor     $48
6.5×55     $56
308 Win     $38
30-06     $43
---
 ** NEW IN STORE **
Excellent quality gift ideas and essentials from Calibre Gourmet and Uzi

---
*** PLEASE NOTE West Australia Customers – AUGUST 2019 UPDATE ***
Firearm Dealers in WA must register with Australia Post to receive (and send) firearms. There is a secure network of post offices in WA and we (disposing dealer) can only send the firearm to a post office within that secure network. Please ensure  the WA dealer has registered with Australia Post and find out from them which post office to send the parcel to. Any post office in WA can tell the dealer where the secure facilities are (and I think post offices outside of WA will also have that information). We can only send 1 firearm per parcel via this secure network and there is an additional fee as well, we will let you know when sending the item. You, the WA customer or dealer, will need to contact the dealer to find out firstly if they are registered with Australia Post and secondly, which post office to send the single-firearm-per-package to. The WA dealer can then arrange for internal transfer of the firearms to their business via an approved carrier. The WA dealer also has to have an Aust Post account and we will need to quote that account number on the address details, so you'll have to ask your WA dealer for his account number too and notify us what that is.
---
Important Notice:
Please note that we cannot ship anything to ANY International destination. This includes items such as magazines, grips, stocks, rifles, handguns, brass etc to any destination including NZ, USA, Canada, Pacific Region, Asia, Europe, Africa and so on.
---
NOW AVAILABLE ONLINE
 PTA's and Licence applications
QLD licence holders – Please be aware that if you are arranging your PTA to be EMAILED to us, it is your responsibility to follow up the process with WLB and to call us to see if its arrived. We do not have a phone number or email address to contact you so you will need to contact us.
Be mindful to have us as the disposer as we are the ones that will be ultimately giving you the firearm. If you are buying from Interstate, DO NOT PUT that dealers details as your PTA will be invalid. Our dealers licence is 50000106.

---

Remington 700 trigger recall information 2019 – we can replace your triggers by appointment https://ssaa.org.au/news-resources/firearms-industry/voluntary-recall-on-remington-model-7-and-700-rifles

---

PLEASE NOTE: We apologise that we are unable to offer PayPal as a payment option. As PayPal have a no firearms policy, they no longer support any sector of the industry that sells, promotes or uses Firearms at all. Please be assured that your details are secure and will not be used for marketing or sold to a 3rd party.

---

Thank you for supporting our family owned business that has been in the same location for nearly 30 years, we opened in 1990! We hope we can find ways to better suit your needs while maintaining a high level of customer service.


---

Our Schedule of Fees have recently changed. Please call us to query prices regarding storage fees, transfers and brokerage.